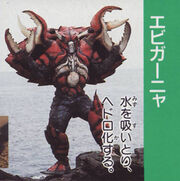 Unctuous is a clawed red-and-orange crab/shrimp monster.
In "Fangula's Last Bite," Unctuous help the Magnavores capture Count Fangula's boss Vlad. The plan did not work though as he fell victim to Roland's Hunter Claw and the Beetleborgs' Sonic Lasers.
He was later released from the comics by Nukus in "Borgslayer!"
Trivia
The costume for Unctuous was later used in Power Rangers Lost Galaxy as one of the monsters that Body Switcher turns into. The same costume was seen in the episode "Countdown to Destruction" as a member of the Machine Empire's army.
See Also
Community content is available under
CC-BY-SA
unless otherwise noted.