"Warrior of Flowers - B-Fighter Ageha!"
―Roll call
Sophie Villeneuve (ソフィー・ヴィルヌーブ, Sofī Virunūbu?) is one of the character in B-Fighter Kabuto, who fights the Melzard Tribe as B-Fighter Ageha (ビーファイターアゲハ, Bī Faitā Ageha?).
History
Sophie Villeneuve was born on 10 May 1979 (17 years old), a French genius violinist who entered the Paris University of the Arts as a scholarship student at the age of 10 and became a violinist after graduating at the age of 14. In addition to being selected as Ageha, she came to Japan guided by the melody of Astral Saber, also her song was able to awaken the Astral Saber from its sleep. Given the insect energy from the Astral Saber, she was chosen by the Butterfly Insect Medal to become Ageha, whose armor was modeled after a butterfly. In Episode 40, it turns out that she was in love with Kouhei.
At first, she had no idea how to use her Insect Commander. At the time of the first battle, he borrowed and used Tentou's Input Card Gun without permission, she was happy to become a warrior and transformed 17 times a day, and she called the old master "Grandpa".

Super Mode of Toei Metal Spirit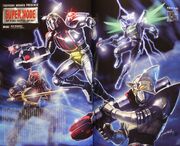 TBA

Game Appearance
Cross Gather: The First Encounter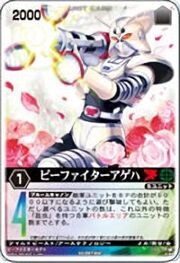 B-Fighter Ageha appears as a playable character in this trading card game Ranger Strike.
Name: B-Fighter Ageha
Card number: XG-097
Rarity: Normal
B-Fighter Ageha
B-Fighter Ageha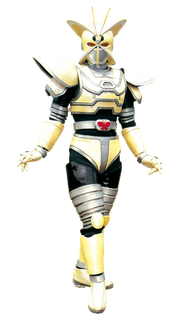 Statistics
Ability Parameters
Punching Power:
Kicking Power:
Maximum Jump Height:
Maximum Running Speed:
Sophie can transform into B-Fighter Ageha by using the New Generation Command Voicer and an unknown B-Fighter Input Card that can allow her body to transform into her B-Fighter form.

Arsenals
Devices
Weapons
Behind the scenes
Portrayal
to be added
Notes
to be added
Appearances
See Also