Strategist Raider (軍師レイダー, Gunshi Reidā?) (34-50, Super Hero Taisen Z) (Mitsuo Ando, Hirotaro Honda), simply refered to as Raider (レイダー, Reidā?), is a mystic from the Death Spirit World who intended to take over Madou. He was destroyed by Demon King Psycho with the help of Psychorror.
Super Hero Taisen Z
Raider returns and recruits Space Shocker

, a new version of Shocker

born from Madou magic, to help him revive Demon King Psycho to consume the universe in the Genmu World. Though mortally wounded by a combined attack from Kamen Rider Wizard

and the Kyoryugers

, Raider re-emerges in a monster form, Space Raider (スペースレイダー, Supēsu Reidā?), before being destroyed by Kamen Rider Beast

and Kyoryu Gold

.
Behind the scenes
Portrayal
Raider was portrayed by Mitsuo Andō (安藤 三男, Andō Mitsuo?) in the original Uchuu Keiji Sharivan TV series and Hirotaro Honda (本田 博太郎, Honda Hirotarō?) in Super Hero Taisen Z. As Space Raider, he was portrayed by an unidentified suit actor.
Conception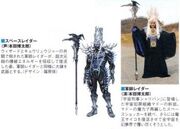 The Space Reider was designed by character designer Tamotsu Shinohara.
Appearances