"Warrior of Sound - B-Fighter Min!"
―Roll call
Li Wen/B-Fighter Min (李文/ビーファイターミン, Lī Wen/Bī Faitā Min?) is a 35 year old from the Peking branch of Cosmo Academia. Li was an elementary schoolteacher who loved children and often put on magic shows in parks for children, and was also a good cook. He was a peaceful man who hated the fight between the B-Fighters and Melzard, and at first refused to cooperate when he obtained the Cicada Insect Medal. However, Kengo made him realize that the B-Fighters fight in order to stop the fighting, and so he agreed to help as Min, whose armor was modeled after a cicada. His attacks are the Sonic Pressure (ソニックプレッシャー, Sonikku Puresshā?) and the Laser Arrow (ルーザーアロー, Rūzā Arō?), fires from his antennae.
Super Mode of Toei Metal Spirit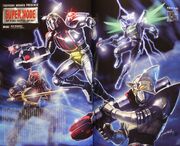 TBA

B-Fighter Min
B-Fighter Min
Statistics
Ability Parameters
Punching Power:
Kicking Power:
Maximum Jump Height:
Maximum Running Speed:
Li can transform into B-Fighter Min by using the Command Voicer and his B-Fighter Kabuto Input Card that can allow his body to transform into his B-Fighter form.

Arsenals
Devices
Weapons
Behind the scenes
Portrayal
to be added
Notes
to be added
Appearances
See Also