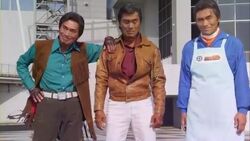 Kenji Takahashi (高橋 健二, Takahashi Kenji?, born February 5, 1955), best known as Kenji Ohba (大葉 健二, Ōba Kenji?) is a Japanese actor and former stuntman best known for his roles in the Super Sentai and Metal Heroes series, especially as Retsu Ichijouji/Space Sheriff Gavan in the 1982 TV series Uchuu Keiji Gavan.
Aside from his primary role as Gavan, he also had a guest role in episodes 25 and 26 of Choujinki Metalder and played Yajiro Iyo in episode 27 of Sekai Ninja Sen Jiraiya.
He is also known for his roles in Super Sentai. He played Shirou Akebono/Battle Kenya in Battle Fever J, and Daigoro Oume/DenziBlue in Denshi Sentai Denziman. He previously guest starred in an episode of J.A.K.Q. Dengekitai. Kenji is also a suit actor, playing AkaRanger in Episode 67 of Himitsu Sentai Goranger to the finale. He also did his own stunts as Battle Kenya and DenziBlue. He also played one of Sky Ninja Shurikenger's human forms and appeared in the Juken Sentai Gekiranger as Dan, the father of Jan Kandou (GekiRed).
He reprised his role as Gavan on several occasions. After Uchuu Keiji Gavan finished, Gavan continued to play a role in the next series, Uchuu Keiji Shaider, he later reappeared in episode 49 of the third and last series in the Space Sheriff Trilogy Uchuu Keiji Shaider, which united all three Space Sheriffs. In 2006, Kenji Ohba voiced Gavan in the video game, The Space Sheriff Spirits. 2012 marked the 30th anniversary of Uchuu Keiji Gavan, with Gavan appearing in a crossover with the 35th Super Sentai series at the time in Kaizoku Sentai Gokaiger vs. Uchuu Keiji Gavan: The Movie. Kenji Ohba not only played Gavan, but also his two Sentai roles, Shiro Akebono and Daigoro Oume, both of which he had reprised earlier. In 2016, he appeared dressed as Retsu to demonstrate the Tamashii Lab Laser Blade toy in an online advertisement for Bandai.
External links