"Warrior of Light - B-Fighter Genji!"
―Roll call
Julio Rivera/B-Fighter Genji (フリオ・リベラ/ビーファイターゲンジ, Furio Ribera/Bī Faitā Genji?) was a Peruvian archeologist/agent from the South American Cosmo Academia branch. He played a reed flute with strange powers that he gave to Ran as a memento of their time together. He was chosen by the Firefly Insect Medal to become Genji, whose armor was modeled after a firefly.

B-Fighter Genji
B-Fighter Genji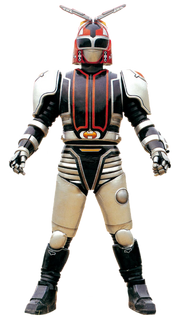 Statistics
Height: 207cm
Weight: 89kg
Ability Parameters
Punching Power:
Kicking Power:
Maximum Jump Height: 55m
Maximum Running Speed: 100 m per 2.3 seconds
Julio can transform into B-Fighter Genji by using the New Generation Command Voicer and an unknown B-Fighter Input Card that can allow his body to transform into his B-Fighter form.

Arsenals
Devices
Weapons
Behind the Scenes
Portrayal
to be added
Notes
to be added
Appearances
See Also