Hunter Killer (ハンターキラー Hantākirā) (1-30, 42) was Voicer's partner, but betrayed him to join the space crime organization Makuu. This one-eyed pirate was Don Horror's right hand man, but was dismissed when he was replaced by San Dorva. He reappears to help Gavan find his father just before dying to redeem himself.
In The Space Sheriff Spirits, he becomes Vario Zector (バリオゼクター) in his own combat suit.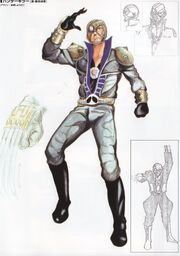 BEM Monsters and Double Monsters / Doublers
Shako Monster (1)
Gamara Monster (2)
Condor Monster (3)
Sasori Monster (4)
Dokuja Monster (5)
Oomadako Monster (6)
Samurai Ari Monster (7)
Kaenzaru Monster (8)
Nijichou Monster (10)
Armadillo Monster (11)
Goat Monster (12)
Sai Monster (13)
Sai Doubler (13-14)
Shamo Doubler (15)
Kama Doubler (16)
Hyou Doubler (17)
Aokame Doubler (18)
Kyouryuu Doubler (19)
Kera Doubler (20)
Mitsubachi Doubler (21)
Kurage Doubler (22)
Kumo Doubler (23)
Sabre Doubler (24)
Goshiki Doubler (25)
Gas Doubler (26)
Jaaku Doubler (27)
Hakkotsu Doubler (28)
Magic Doubler (29)
Keibi Doubler (30)
Vario Zector
In The Space Sheriff Spirits, Hunter Killer becomes Vario Zector, his own combat suit. This original combat suit. The superconducting combat suit was made by the space police but was banned because it was so powerful that it was stolen by the queen and worn by a Hunter Killer. Its weaknesses is poor energy consumption as the suit can overload.

Appearances