The five Space Ninjas (宇宙忍者, Uchū Ninja?): Gilmarza's top soldiers created through her black magic. They wear suits of black armor differing only in the color of their forehead plates (which names each member after the element he represents, in a conception taken directly from Taoism).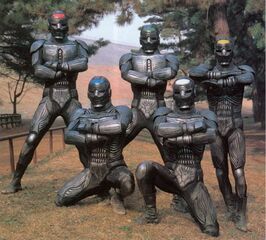 They all have two "default attacks" (a plasmic projectile with the same color of their forehead plates and a kind of "plasma sword", both channeled via their hands) and one peculiar fighting "special technique" (except for Sui). They only revealed their true forms after having their heads split open by Juspion's sword.
See also
Community content is available under
CC-BY-SA
unless otherwise noted.