The original trio of B-Fighters in Juukou B-Fighter. The members use Bio-armor developed by the Earth Academia's brightest and infused with the life force of insects.
The B-Fighters of the first generation sometimes appear and help out the new generation. After destroying the Jamahl, they were transferred to the Cosmo Academia branch. They occasionally aid the New Generation B-Fighters before Guru dies, destroying their ability to become B-Fighters.
First Generation of B-Fighters
Team History
B-Fighter Kabuto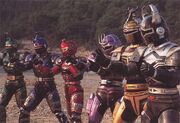 Space Squad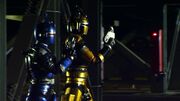 Alongside B-Fighter Kabuto, Blue Beet was a candidate to join the Space Squad

, a combined force of Sentai and Metal Heroes assembled by the Galactic Union Police under Geki Jumonji to combat the Genmakuu crime cult. Uchuu Keiji Gavan vs. Tokusou Sentai Dekaranger
Kyuranger vs. Space Squad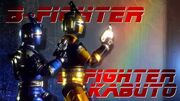 Evidently, Blue Beet was indeed inducted as a member of Space Squad. Uchu Sentai Kyuranger vs. Space Squad

Arsenal
Training Robots (2, 36): Three drone robots built for the B-Fighters to test their arsenal on.
EIG (11): Short for Electronic Intense Heat Gun, it is an experimental thermal laser that shoots a beam of intense heat. It was once used by the B-Fighters when they needed to disable Ikari Bomber's self-detonation chip to defeat him.
Beet Machines
Main article: Beet Machines
The Beet Machines (ビートマシン, Bīto Mashin?) are the mecha used by the B-Fighters to fight the Jamahl fighter jets, usually come by the command, "Beet Machines, launch!"
Heroes
Ranger Keys
Appearances
See Also
Community content is available under
CC-BY-SA
unless otherwise noted.