"G-Stag!"
―G-Stag's Roll Call
Daisaku Katagiri/G-Stag (片霧 大作/ジースタッグ, Katagiri Daisaku/Jī Sutaggu?) at 23, is an impetuous but nature-loving man. A tree doctor, Daisaku claims to be able to hear trees and plants when they are dying. He was captured, along with Rei, by the Jamahl during the start of the invasion of Earth. Upon receiving his B-Commander, Daisaku made quick work of Jamar soldiers. He was aquaphobic until he overcame his fear to save his father Daitetsu Katagiri, a fisherman, from a trap laid by the Ebiganya. As the most physically powerful of the B-Fighters, G-Stag's armor is modeled after a stag beetle. G-Stag is strong enough to lift the Jamar soldiers and toss them around like rag dolls.
Character History
Personality
G-Stag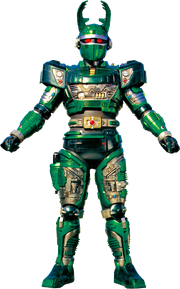 Arsenal
Notes
Daisaku Katagiri is played by Shigeru Kanai (金井 茂, Kanai Shigeru?), who later played Yuusaku Hayakawa

in Denji Sentai Megaranger

.
Appearances
See Also
Community content is available under
CC-BY-SA
unless otherwise noted.