Blue SWAT (ブルースワット, Blue SWAT?) is the thirteenth installment in the Metal Hero Series. It ran from January 30, 1994 to January 29, 1995 for a total of 51 episodes and one theatrical film, aired as part of the 1994 Manga Matsuri, which compiled episodes 1 and 2. Blue SWAT deviated from the Metal Hero trend by using a realistic vibe for the series instead of fantastic, over-the-top action by focusing on the martial arts and gunplay aspects of the series. While the mood of the series appealed to the genre's adult fanbase and older viewers, the show wasn't well-received by children, which resulted in a change in to a lighter tone midway through the series. The Blue SWAT team later appeared for a special team-up in the final episodes of Juukou B-Fighter.
Plot
When Earth is tearing itself apart by means of crime, pollution and war, aliens choose the time to invade, taking advantage of the lowering of everyone's guard. The Japanese government establishes an elite police organization known as Blue SWAT to combat the aliens, known as the Space Mafia. The aliens attack by possessing humans to obtain their goals. When an alien possesses the chief of the Blue SWAT unit to infiltrate the organization, it manages to completely demolish their building of operations and murder all but three SWAT members; Show, Sarah and Sig.
Managing to keep the suits and equipment assigned to them, the three form their own private detective-like agency called Blue Research to continue their mission of defeating the Space Mafia. Now working on their own, their battle with the Space Mafia is only beginning...
Characters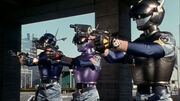 Blue SWAT/Blue Research
Monsters
Episodes
Movie
Cast
Songs
Opening theme
Ending theme
"HELLO THERE!"

Lyrics & Composition: Kaoru Itō
Arrangement: Osamu Totsuya
Artist: Tatsuya Maeda
Notes
Unlike other tokusatsu shows, the heroes do not gain hero titles upon transforming; instead, the heroes are just referred to by their first names, both in and out of suit.
Ideas were thrown around about making this into a third season of VR Troopers.
Despite wasn't adapted in America, Mademoiselle Q appeared on Big Bad Beetleborgs episode, Convention Dimension as Wingar (albeit it was her monstrous form).
External links
Community content is available under
CC-BY-SA
unless otherwise noted.