Anthropomorphic Ninja Vermillion Lizard (異形忍 紅トカゲ, Igyōnin Beni Tokage?): A sword collecting ninja who wanders the world in search for the most valuable ones. A wanderer who has traveled the world in order to master every sort of sword fighting and ninja techniques, he is a skilled warrior feared by even Dokusai himself. He wields lizard-shaped throwing stars and bombs, as well as a hand cannon, while having the ability to transform into a large lizard. In Episode 5, he attempts to challenge Jiraiya for the Optical-magnetized Light Vacuum Sword, but fails. He becomes Jiraiya's ally and in Episode 31, he discovers the Nobutora Sword that was stolen from a museum in Paris, but is forced to return it to authorities. In Episode 41, he becomes possessed when he wields the Dark Sword that originally belonged to Demost.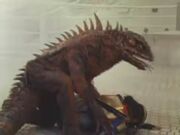 Ninninger
An image depicting Jiraiya fighting Vermillion Lizard is among those seen when Kasumi Momochi

looks up the legendary ninja in the thirty-fourth episode

of Shuriken Sentai Ninninger

.
Community content is available under
CC-BY-SA
unless otherwise noted.