Andrew "Drew" McCormick is the Blue Stinger Beetleborg, and later the Chromium Gold Beetleborg in the second season
Biography
Drew is the leader of the Beetleborgs. He was granted the ability of telekinesis by Flabber, which he activated by pointing at either an opponent or an object and nodding his head. Drew received an upgrade, Mega Blue Beetleborg, after he used the energy axis that powered Shadowborg on his original armor. After Roboborg arrived, Drew received a new upgrade, Mega Spectra Chromium Gold Beetleborg, after Nukus and Vilor went Mega themselves.
Personality
To be added

Beetleborg
"Mega Blast!"
―Transformation announcement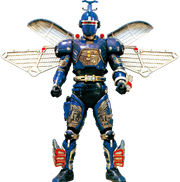 Arsenal
Arsenal
Vehicles
Battleborg
"Go, Mega Borg!"
―Transformation announcement
Arsenal
Vehicles
Battleborg
Notes
His armor was modeled after a Japanese rhinoceros beetle.
His voice started changing during season 2 of Beetleborgs Metallix.
As revealed in To Foretell the Truth on his student ID, in Beetleborgs Metallix, Drew attends Charterville Junior High and resides at 410 Cherry Tree Road, Charterville, USA.
Appearances
See Also
Community content is available under
CC-BY-SA
unless otherwise noted.