Tokusou Exceedraft (特捜エクシードラフト, Tokusō Ekushīdorafuto?, Special Rescue Exceedraft) is the final installment of the Rescue Heroes Trilogy in Toei Company's Metal Hero Series of superhero TV series. It was aired in Japan from February 3, 1992 to January 25, 1993. The series was initially conceived as taking place in a new continuity, leading to weaker ties to Solbrain and Winspector.
Characters
Exceedraft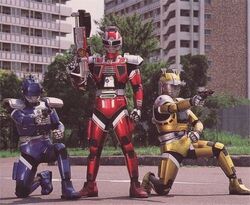 Main article: Exceedraft (team)
Allies
Enemies
Weapons
Vehicles
SRED-01 Scramhead (

スクラムヘッド

Sukuramuheddo

?

): Redder, Blues and Keace's SUV, a modified, armor-clad Chevrolet K5 Blazer. It is extremely fast, and runs well even on bad roads. The armor's wallet is stored inside of it, being mounted externally. When Redder uses it, he gets into the vehicle and the seat moves to the armored top on the back of Scramhead, where the armor is mounted. The armored wings are attached outside the car.
SRED-02 Varias 7 (

バリアス7

Bariasu Sebun

?

): SyncRedder's car, a modified Chevrolet Corvette C4. It is equipped with seven functions (Access Radar, Hyper Searchlight, Hydlide Cannon, Break Laser, Multi-Anchor, Hover Speeder, and Grenade Shooter). Patrol and emergency modes are used, depending on the situation.
Intelligence Acquiring Satellite SIM (

情報探査衛星シム

Jōhō Tansa Eisei Shimu

?

)
Episodes
Cast
Crew
story and screenplay by Saburō Yatsude
Scripts: Jun'ichi Miyashita, Tatsuoki Hosono, Yasuyuki Suzuki, Takashi Yamada, Naoyuki Sakai, Nobuo Ōgizawa, Takahiko Masuda, Mutsumi Nakano, Kyōko Sagiyama
Original Music by Kaoru Mizuki
Photography: Susumu Seo, Takakazu Koizumi
Assistant Directors: Hidenori Ishida, Masashi Taniguchi, Kenji Koyama
Action directors: Junji Yamaoka, Jun Murakami
Special effects director: Nobuo Yajima
Produced by Kyōzō Utsunomiya, Atsushi Kaji (TV Asahi), Nagafumi Hori (Toei)
Directed by Kaneharu Mitsumura, Michio Konishi, Kiyoshi Arai, Masao Minowa, Hidenori Ishida
Songs
Opening theme
Ending theme
"Goal wa Mirai" (

ゴールは未来

Gōru wa Mirai

?

, "The Goal is the Future")

Lyrics: Keisuke Yamakawa
Composition: Kisaburō Suzuki
Arrangement: Tatsumi Yano
Artist: Takayuki Miyauchi
External links
Community content is available under
CC-BY-SA
unless otherwise noted.